Cellular Laboratories De-Aging Day Creme SPF 20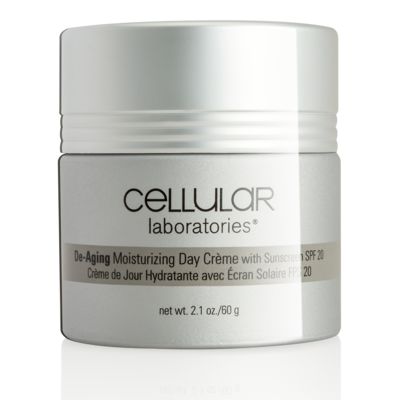 Cellular Laboratories De-Aging Day Crème SPF 20 helps protect the skin from premature aging brought on by harsh environments and the sun. Vitamins help make the skin smooth ...
£52.15 GBP
2.60
Single Jar (2.1 oz./60 g)
---
sku: UK11195
FEATURED RECOMMENDATIONS
Details
---
Cellular Laboratories De-Aging Day Crème SPF 20 helps protect the skin from premature aging brought on by harsh environments and the sun. Vitamins help make the skin smooth and soft, while protecting against free radicals. Use this day crème to promote proper moisture retention, as a great makeup base that preps your skin for makeup application, and to keep your makeup in place and looking fresh throughout the day.
This proprietary blend contains Renovage (Caprylic/Capric Triglyceride and Teprenone), an innovative anti-aging ingredient that promotes cell renewal and replication. It also contains bio-engineered Human Growth Hormone (Human Oligopeptide-9), and natural polyphenol antioxidants, including vitamins A and E to help make the skin smooth and soft while protecting against environmental elements, which can prematurely age the skin. Use daily to fight against premature aging brought on by exposure to UVB rays, while hydrating the skin and promoting its natural ability to retain moisture. The sun is harsh on skin, causing fine lines, wrinkles, age spots and unevenness. Moisture retention decreases the signs of fine lines and wrinkles, while the SPF 20 slows further signs of aging.
Protect your skin daily with this Day Crème with SPF 20. Apply in the morning to ensure protection throughout the day. Packed with moisture, the anti-aging formula helps reduce the visible signs of aging, as well as maintain the integrity of the skin. The appearance of fine lines and wrinkles are lessened as the crème begins to soothe skin. With the support of a broad spectrum sunscreen, skin is protected from most UVB rays.
Cellular Laboratories De-Aging Day Crème SPF 20 is a day cream with sun protection that can be worn under makeup but with the benefits of a night cream.
Benefits
---
Acts as a superior anti-aging system with broad-spectrum sunscreen protection against UVB rays
Smoothes, softens and moisturizes the skin
Excellent pre-makeup base for all skin types
Light texture enables moisture retention and comfortable wear
Absorbs quickly and leaves no residue
Paraben-free formula
Ingredients
---
Renovage (Caprylic/ Capric Triglyceride and Teprenone)
Anti-aging and protective effect against stress by telomere stabilisation and DNA maintenance (cell division). Improvement of tissue quality by optimal cell interactions (cellcommunication). Rebalance of cell functions (metabolism).

Human Growth Hormone (Human Oligopeptide-9)
Bio-engineered HGH that helps to reduce skin-aging. HGH is carefully encapsulated in nano-liposomes which help with skin penetration. HGH reduces the appearance of lines and winkles, and promotes cellular vitality.

Ceramide II
Boosts the skin's moisture retention and surface smoothness. Supports the skin's water retention capacity and can help maintain the skin's natural barrier system.

Sodium PCA
Powerful, natural moisturising agent that is found in human skin and is part of the natural moisturising factor of healthy skin. Has been shown to hydrate the skin more effectively than traditionally used compounds in skincare products.

Vitamin A and Vitamin E
Works as potent antioxidant that prevents cell damage due to harmful oxidants.

Honeysuckle Flower, Jujuba Fruit and Liquorice Root Extract
Calm and soothe, while providing nutrients necessary for the protection and retention of healthy skin. Help to promote skin elasticity and firmness.

Active Ingredients of Cellular Laboratories De-Aging Day Crème SPF 20:
Octinoxate: 7.00%
Oxybenzone: 3.00%
Octisalate: 3.00%
Titanium Dioxide: 0.40%
FAQ
---
How do I use Cellular Laboratories De-Aging Day Crème SPF 20?
Apply to clean skin for daily sun protection
Allow to absorb
Ask a doctor before use on children under 3 years of age
What is the De-Aging Crème?
The De-Aging Crème is a multi-purpose hydrating cream with broad-spectrum protection against UVB rays.

Is the De-Aging Crème acceptable for everyday use?
Yes, it is important to wear a sunscreen everyday, and the De-Aging Crème is perfect for daily use. It absorbs quickly into the skin to provide all day protection against the sun and is perfect for use before the application of makeup.

What are the effects of the bio-engineered human growth hormone ingredient?
HGH helps reduce the appearance of fine lines and wrinkles, helps promote cellular vitality and supports the normal production of new skin cells. Cellular renewal, along with the preventative SPF 20, makes the De-Aging Crème both a reactive and proactive solution.

Is this product tested on animals?
This product has not been tested on animals.

Besides the key ingredients, what else goes into De-Aging Crème?
Water, Ethylhexyl Methoxycinnamate, Propylene Glycol, Ethylhexyl Salicylate, Benzophenone-3, Caprylic/Capric Triglyceride, Glyceryl Stearate, PEG-100 Stearate, Stearic Acid, C12-15 Alkyl Benzoate, Sodium Hyaluronate, Butylene Glycol, Titanium Dioxide, Ceramide 2, Retinyl Palmitate,Tocopheryl Acetate, Human Oligopeptide-9, Teprenone, Lonicera Caprifolium (Honeysuckle)Flower Extract, Zizyphus Jujuba Fruit Extract, Glycyrrhiza Glabra (Licorice) Root Extract, CetylAlcohol, Dimethicone, Alumina, Allantoin, Panthenol, Sodium PCA, Lecithin, Acrylates/C10-30Alkyl Acrylate Crosspolymer, Triethanolamine, Sodium Phosphate, Sodium Chloride, EDTA,Disodium EDTA, Phenoxyethanol, Caprylyl Glycol, Fragrance, Limonene and Butylphenyl Methylpropional.
Reviews
---
Displaying reviews 1 - 5 of 43
---
It's rare to find a moisturiser that is light, non-greasy with great coverage and that lasts for a very long time so is cost-effective! Love this product as my skin (combination-dry) feels hydrated and it sits under my foundation/makeup beautifully!
---
Never leave home without it!
I have sensitive skin and the range of Cellular Laboratories products really suits me. I love the De-Aging Moisturizing Cream SPF 20 because it is light and glides on easily on my skin to gives it moisture without being too oily nor greasy. It is a perfect base before putting on my makeup for the day. Best of all, it keeps my skin hydrated and supple throughout the day!!!
---
Moisturize and Protect in One Simple Step
Cellular Labs is a great line of skin care. When I wear this SPF 20 moisturizing creme along with the SPF in my foundation I am good to go all day long.
Even on those lazy down days, when I don't want to apply foundation, I get great protection from this creme which is part of my skin care regimen.
---
Love this day cream. This cream feels so luxurious. My face and truly moisturizes it while offering me sunscreen. With a history of skin cancer, I wear this daily so that I'm always covered.
---
As an esthetician I recommended this to an elderly client with dry skin. Love that it is uva and uvb protective. I was very happy with the outcome! As was she!